The Zen of Car Ownership
"Pour avoir une voiture, sans avoir une voiture"
To have a car, without having a car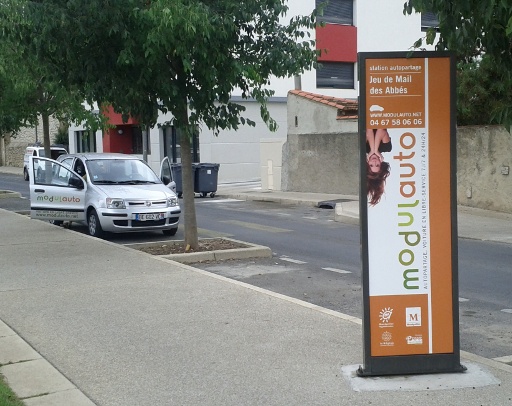 Car sharing/car club schemes are pretty common in European cities, but the one here in the south of France is the best I've heard of. In Montpellier, it goes by the name of Modulauto. We pay a (small) monthly fee, can book cars from a number of parking locations online, pay an hourly charge and charge per kilometre travelled. Fuel is included in the price. One location is about 5 minutes walk from our house, more or less all of them are right at tram stops, and the people who thought this out have done a really good job of locating the cars in spots where it's easy to navigate to and from (for North American readers, this is a non-trivial accomplishment in European cities that grew up during eras when bullock-drawn carts were high technology and have road plans of a similar vintage).
We have an electronic card to unlock the car (only enabled when you've booked the car), the keys are inside, there's a Total charge card to refuel the thing, and a very helpful call centre when things go wrong. You can book for as short or long a time as you like, and you can arrange special deals at the office in the centre of town for longer rentals over quiet periods. It's generally more economical than renting a car for periods of less than a few days.
It's actually kind of shocking that it works so well. Going to be a few minutes late bringing the car back? Give the office a call, and they'll make sure you don't pay any late charges (they're helpful! and efficient! in France!). Had to refuel somewhere other than Total? Just drop the receipt into the office and you'll get a refund on your account in a few days.
More or less every time we use the system, we comment about how good it is. I am regularly left reeling by the futuristic efficiency of it all. We may not have teleporters and robot servants yet, but we can have cars without having cars!
---