Container Cruising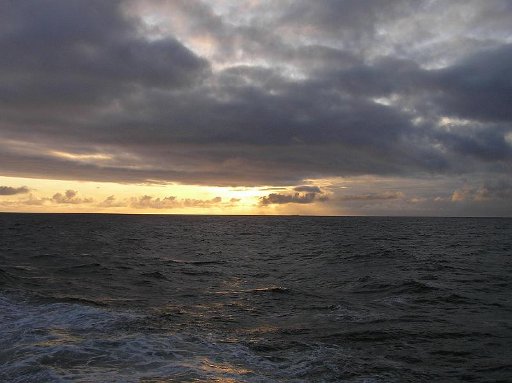 Uh-oh. Getting a bit behind on this 30-day challenge. Time for some shorties...
Not really a "past life" as such, but something interesting I did a while ago that was brought back to mind by the Costa Concordia cock-up. I've not spent a lot of time on big ships, indeed until 2007, I think the only larger vessels I'd been on were ferries, cross-Channel or around the Greek islands.
In April 2007 though, I went to Canada for a big trip, mostly to visit some potential future places to live and work and to attend a workshop at the Banff International Research Station. I flew out to Vancouver, took a ferry to Vancouver Island where I visited UVic (ended up working there for a couple of years afterwards), then travelled east by train. I made it as far east as Halifax, Nova Scotia, all by train. That was a pretty cool experience in itself, but I'd had a wacky idea for how to get home from Canada to the UK. It's possible to book passage on container ships under some circumstances, which I decided to do. It's a tricky process, not super cheap, and the logistics of making the rendezvous with the ship turned out to be a bit more "interesting" than I expected.
At this time, the M/V Flottbek was sailing a triangular route between Montreal, Liverpool and Antwerp, so my plan was to meet the ship in Montreal and spend a week travelling to Liverpool. Four days before the ship was supposed to sail, I called the port agent from Halifax, letting him know who I was, that I was sailing with the Flottbek in a few days and asking what to do about getting to the ship. "Eh, if you're sailing on the Flottbek, you won't be sailing in a few days! You'll be sailing tomorrow. She's loading in Montreal right now!" Oh dear. Massive panic. Ran to a travel agent, luckily got a ticket for a flight back to Montreal that evening, taxi to airport, flew back to Montreal, six hours sleep then presented myself at the gates of the container dock in the morning (after a complicated explanation in French to a Québecois taxi driver that yes, I really did want to go to the container port).
I spent seven days on the Flottbek, under the capable care of the German master and chief engineer and they Philippino crew. It was a very interesting experience, though the life of a crewman on a container ship isn't one that I would want to share any time soon: 9 months on, 3 months off for the men, or a generous 3 months on, 3 months off for the senior officers. Being away from home for that length of time, all the time, sounds more like something out of a Patrick O'Brien novel than real life. Still, for seven days, in spring, with calm seas and beautiful sunsets, it's something I'd recommend to anyone who has the time.
Everyone on the Flottbek seemed extremely competent and the captain was a serious serious man who'd been a seafarer all his life, having grown up on Heligoland and having a little boat of his own as a boy. I can't, not in a thousand years, imagine him or any of his crew doing what the master of this Italian cruise ship did. The Flottbek had run aground once, on a shoal in the St. Lawrence River, on the way from Montreal to the open sea, but that was the fault of the Lawrence River pilot (thankless job: shifting shoals and big ships don't make for a stress-free life).
---